SexyPlus sponsored this post and gifted me the featured pieces. I selected the pieces and post theme myself, and all words and opinions are my own. SexyPlus has a boutique in Mississauga, Ontario, plus an online store, and they do ship internationally.
I love the easy, breezy quality of swing tops and flowing tunics, and today's Trend to Try takes it to the next level. The high-low maxi blouse is dramatic, flowing, and super fun. Plus, it's way more wearable than I initially thought. The long trailing fabric is part superhero, part regal queen, and those are archetypes I'll gladly channel in my outfits!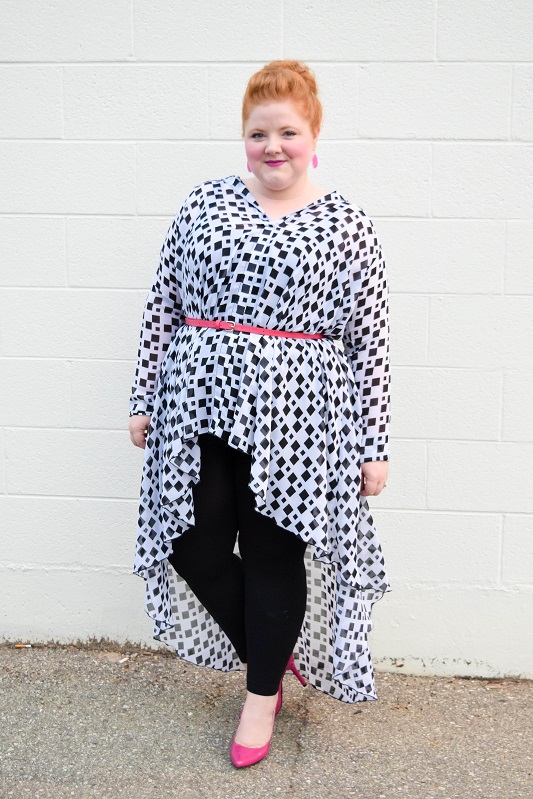 I've been eying the high-low maxi blouse trend for awhile, but it wasn't until I spotted this style from SexyPlus boutiquethat I decided to try it for myself. I've partnered with SexyPlus in the past (here and here). I stopped into their Toronto boutique earlier this spring. And I admire Stefanie's passion for stocking her boutique with flirty, trendy, and affordable plus size fashions. I follow her store on Instagram, and after seeing a few of her models in this top, I felt inspired to give it a go. In today's post, a simple outfit formula for styling a high-low maxi blouse, plus some fit notes on this tunic top and these black leggings from SexyPlus!
My review of the Beatrice Hi-Lo Chiffon Tunic:
The Beatrice Hi-Lo Chiffon Tunic ($59US) comes in sizes 1x-3x in a black, black and white print, and cobalt blue colorway. The top is from brand Sexy Diva, and I've tried a number of pieces from this brand. I'd say the sizing is more juniors plus, so you may need to size up. That being said, the fit of this top is tricky. It's boxy and billowing through the body, but it's quite fitted and snug through the shoulders and upper arms. The fabric is a sheer poly-chiffon with no stretch. I'm wearing the 2x here, and it just fits my arms. If you have broad shoulders or large upper arms, you will most definitely need to size up. The top features long sleeves, and I have mine folded over once because they're quite long on me. I also have a black cami layered underneath for extra coverage. And while the top hits above the ankle on the model, it falls to the floor on my 5'4″ frame.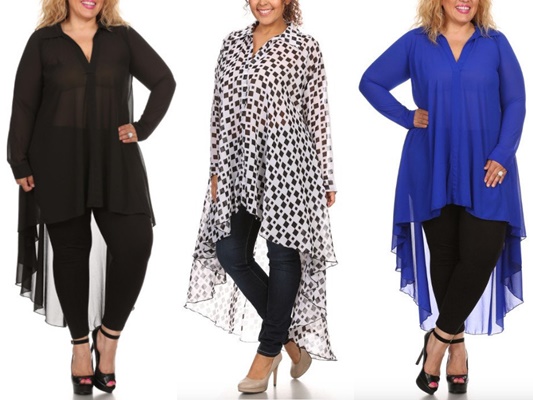 My review of the Perfect Seamless Leggings:
I'm also wearing the Perfect Seamless Leggings ($24US) in black which are also available in brown and gray. They're from the brand SWAK Designs, and I love SWAK. They have the softest, stretchiest knits, and these leggings are no exception. The leggings come in one size and fit sizes 1x-4x. They have a high rise and a soft, slinky feel. The fabric is not as thick or substantial as other leggings I've tried, and the more they stretch, the more transparent they become. I could see my underwear through the back, so I definitely recommend pairing these with a long tunic top or dress on top.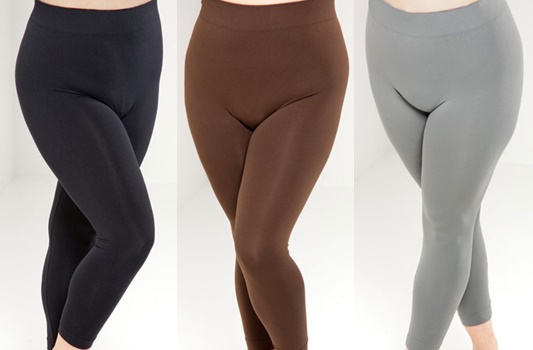 Styling My High-Low Maxi Blouse:
A high-low maxi blouse is such a fun, breezy style – whatever the season. It brings instant drama to your look, and it's not a far cry from a swing top, kimono, or tunic top. If you like those styles, you might like the high-low maxi blouse. I like to pair voluminous, billowing tops with slim, fitted bottoms like leggings, jeggings, and skinny jeans. Here I've paired the blouse with a basic pair of black leggings. The combo is comfortable, easy to wear, and still looks glamourous. To polish the look and add some pops of color, I wore coordinating accessories in hot pink. A drop earring doesn't compete with the print like a necklace might. A skinny belt cinches my waist for an hourglass silhouette. And a pink pump dresses up the look and adds instant fierceness. I think this is such a fun, flirty look – perfect for a night out with the girls!
I wasn't sure I'd ever come around to this trend, but after trying the high-low maxi blouse for myself, I'm obsessed! I was strutting around in this look, the back trailing out behind me. Such drama! Much glamour! Wow!
One strategy for pushing my fashion envelope is following bloggers and independent boutiques on Instagram. If Stefanie from SexyPlus hadn't shared numerous photos of various models sporting this top, I doubt I'd have come round to it. I find that many brands and boutiques share model, blogger, and customer photos on social media. On their website, it's usually just manufacturer photos and catalog shots, but thanks to social media, they're showing their apparel on more diverse bodies. And blogger and customer photos mean you'll get styling tips too!
What's a trend you've recently come round to? Which trends are you still on the fence about? Do you like following brands and boutiques on Instagram and social media, or do you prefer using store websites?